How to display IOST wallet

IOST wallet account creation is basically a paid service, but MoonstakeWallet is offering a limited time free IOST account creation.

How to create an IOST account (Web version wallet)

1) Click the Wallet button.

  Click on the Wallet button in the upper left corner of the screen.

2) "IOST" will appear in the Coin column.

  Scroll down to the asset column and confirm.




*If IOST is not displayed on the wallet screen, click the "Add Coin" button on the right side of the wallet screen to add IOST.

3) Click the "IOST" button on the wallet screen.

  Click on the "IOST" button in the wallet menu.

4) Click the "Create Account" button.

  This will complete the account creation.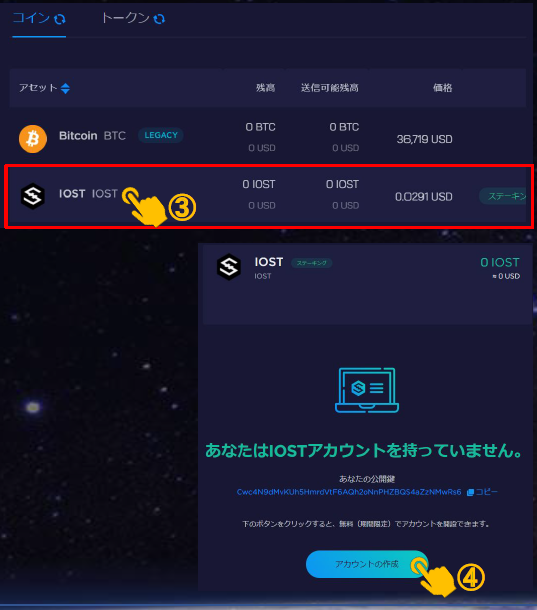 *IOST account creation is only available for a limited time. For those who are not eligible, account creation will not be available.

Precautions for creating an IOST account with the mobile wallet

In order to prevent unauthorized creation of IOST accounts, please connect the mobile wallet to the Moonstake account when creating a mobile wallet.

How to connect to the Moonstake account

Click the "Settings" button on the right side of the mobile wallet.

Click the "Login to Moonstake account" button on the top of the settings page.

In order to create an account, please click the "Create account" button to log in.